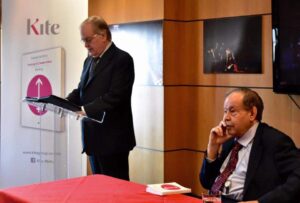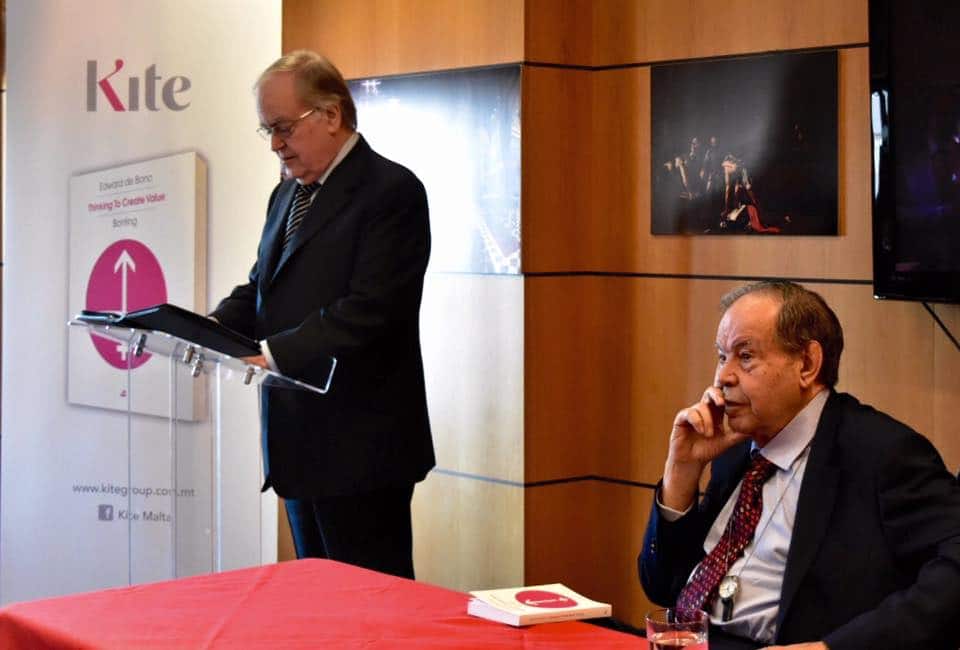 Malta's foremost export is its human resource since Malta has no other natural resources it can rely on. Edward de Bono is a living example of the country's exceptional resource and his latest book "Thinking to Create Value – Bonting" reaffirms his acclaimed position as one of the world's leading thinkers.'
This was stated by H.E. Norman Hamilton, Malta's High Commissioner to the United Kingdom during a book launch which was held at the High Commission Offices in central London. H.E. Norman Hamilton reiterated his pride in hosting the book launching event of De Bono's latest publication 'Thinking to Create Value – Bonting' which, coincidentally, is also the first publication to be entrusted to a Maltese publishing house.
Kite Group were chosen to publish and distribute de Bono's 85th publication which continues to build on the author's previous works on the subject of lateral thinking and creativity. Mr Hamilton praised the publishers for their latest publications which are of 'high international standards'.
Addressing the launch, Professor de Bono gave an overview of the latest principles and thinking skills which are dealt with in his book. He stated that he is already planning other works and titles. These would complement the impressive portfolio of publications which have cemented his standing as a leading authority on the subject.
The event brought together a number of distinguished guests from various areas such as diplomacy, civil service, fellow authors as well as some of de Bono's old students and colleagues. During the event Professor de Bono signed copies of his latest work, whilst exchanging some informal thoughts with his audience.
The book launch was only one of a number of events held in London over the past few days. Other events included book signing sessions in leading bookstores of the English Capital including Waterstones and Foyles.
In his latest work, 'Thinking to Create Value – Bonting', de Bono is giving his readers a new tool, what he refers to as 'Bonting'. This represents the adding of value to that which is already good, but not good enough.
This book is easy to follow and understand, yet loses nothing of its didactic nature. The book makes ample use of simple examples of value from everyday life situations that have been added in the past and value that might still be added. In his latest publication, de Bono walks and talks his readers through the process that is needed to arrive at the solution.
de Bono argues that by thinking to adding value to something which is already good, a person will open up new opportunities in understanding and solving everyday issues and problems. de Bono has once again managed to come up with something which is unexpected, yet necessary.
The book 'Thinking to Create Value – Bonting' is available in high quality paperback version from leading bookstores or www.kitegroup.com.mt. More information on info@kitegroup.com.mt